The Elite Online Weight Loss Coaching Program is for those committed to finally losing the extra weight — for good — through transforming their relationship with food and being in control once and for all.
Lose that stubborn weight and keep it off for good?

Enjoy your best friend's chocolate birthday cake without feeling guilty or craving to eat the entire cake? 

Feel confident about your body in your summer dresses or on the beach?

Have more energy to spend time with the ones you love?

Feel proud of the food choices you make because you know you make healthy choices that keep you healthy today and 20, 30, 40 years from now?

Know how to prepare and stay nourished while working towards your weight loss plan?
I want you to know that
these things are 100% possible.
Living your best life with a body you feel confident in, feeling energized, and knowing that you are living healthy are possibilities for all of us!
But I know what you might be thinking…
"I always start out strong and feel good about my new restrictive diet, but before too long, something happens — a party, a holiday, or see those doughnuts in the break room — and suddenly you're falling off the wagon.
Diets don't work for me and will always fail.
It's too hard and too restrictive."
You are tired of trying diets for weight loss and not getting the results you want. You are frustrated and don't even know what to do anymore. 
thouthouhSound familiar?
You feel like you've tried all the diet plans, potions, and pills. And you've spent countless hours on Google researching what you should do next.
But you are still gaining weight and aren't happy with your appearance and feel crappy.
I've been there. And I've helped hundreds of clients with their weight and wellness goals as a registered dietitian and virtual weight loss health coach.
I created the Elite Online Weight Loss Coaching Program as my premier program to help you build your lifestyle and keep you accountable to your weight loss goals.
There are a lot of tools available, but there is no cookie-cutter approach. My plan is personalized and designed just for you. It's not crazy complicated or made to make you feel deprived.
I support a real whole foods approach combined with self-care and mindset support.  These are essentials pieces for your weight loss journey.
As a registered dietitian and health coach, I have a proven track record with helping thousands of clients with their weight and wellness goals.
Are you ready to live the life you want?

v
---
 
Let's talk about why the Elite Virtual Weight Loss Coaching Program is the key to achieving your goals quicker and have lasting effects that will carry forward.
 
Specific and Customized Direction and Coaching (I'll tell you what to eat that works for YOUR body)
No one-size fits all approach. You tell me what your lifestyle is like and I build you a customized plan that works for you. 
My plan will include foods you LOVE eating. No crazy low calorie, no carb, anti X food diets.
It's a sustainable way of eating for life.
Nutrition Expert! I am a Registered Dietitian with a Masters in Nutrition and a Certified Diabetes Educator
I have invested hundreds of thousands of dollars and more than 10 years to get the best ivy league university education in nutrition. I've done hundreds of hours of extra studies and taken board exams to get my designation and certifications.
I've also worked with hundreds of clients over the past few years with body-image and weight-loss goals.
My Elite Online Weight Loss Coaching Program works. My recommendations and plans are created based on proven scientific evidence. I never tell you to buy, eat, or do anything that's hokey-pokey or woo-woo.
Accountability
You want to succeed and I want you to succeed. I'm here to make sure that you do the work and stay on track to get there.
Real Foods, Real Results
You will eat REAL food.
You can eat bread, rice, and pasta. You will change your relationship with food.
Every single client who completed my program says their relationship with food has become positive.
They are educated about making healthy food choices that they ENJOY and feel more confident with their body.


FAST TRACK to Your Goals with this completely customized and virtual coaching program 
You won't just be talking to a dietitian and getting recommendations.
I'll be coaching you and giving you giving you step-by-step, customized-for-you strategies and support a to tackle daily barriers to get you to your goal ASAP.



---
This program IS for those who are:
Action takers who are ready to stop yo-yo, FAD dieting

Ready for a forever eating plan you can keep for the rest of your life AND keeps the weight off

Dedicated to implement a personalized, structured plan created by a professional to get to your goals

Thrives with high level of daily accountability and premium virtual coaching
This program is NOT for those who are:
Wanting a quick fix to lose weight

Not open to new ideas and being coached

Quits easily without applying yourself

Not ready to invest your time and finances in yourself
                                       If you are ready and committed to invest in yourself…
                                    Book a free 30 minute call with Adrienne by clicking on the button below.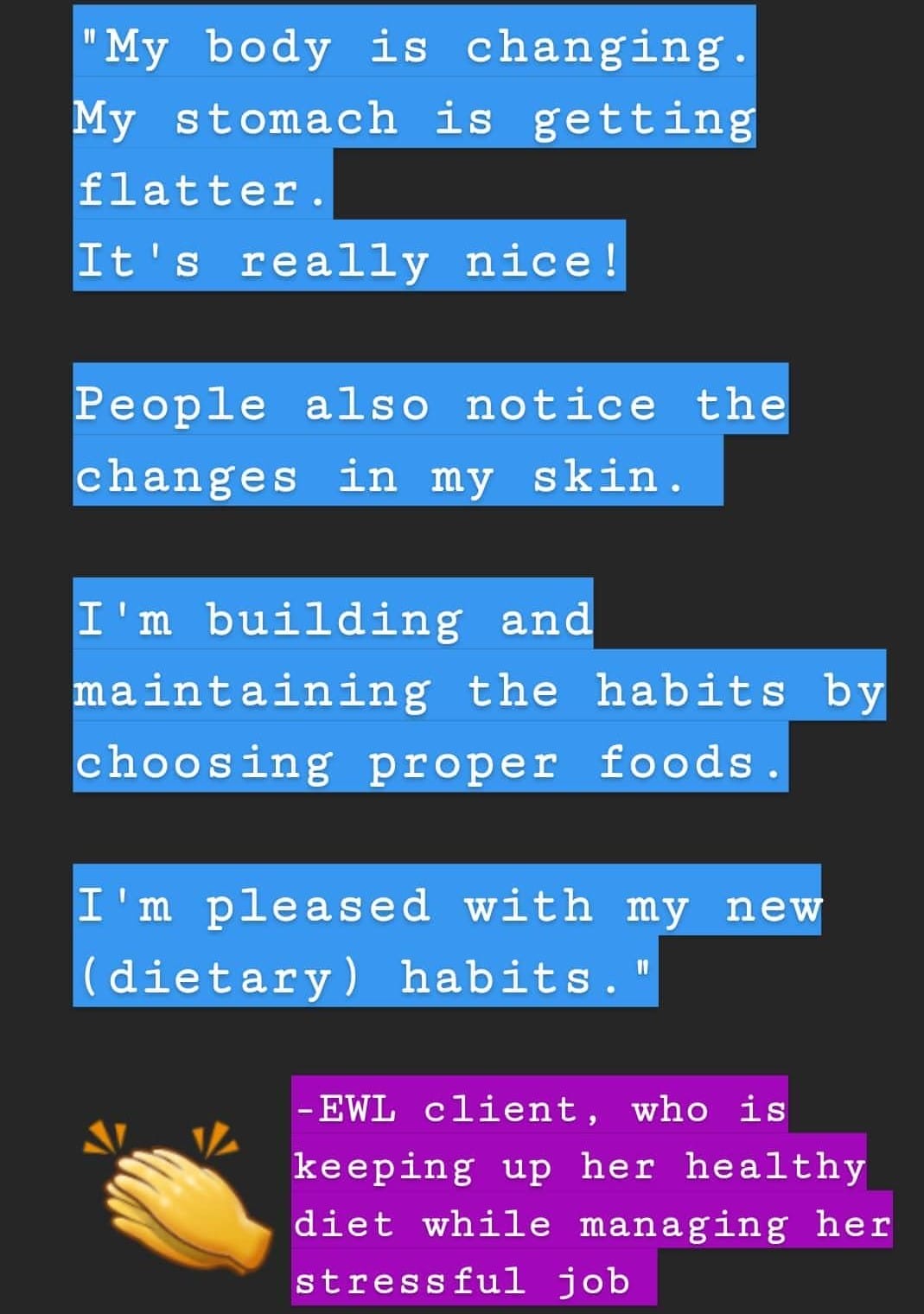 29.6lb Weight Loss from Randy with the Elite Virtual Weight Loss Coaching program!
---
18lb Weight Loss from Kabir with the Elite Online Weight Loss Coaching program 
Online0:04 – Describe your diet before and after we started working together
1:17– Describe how you feel daily compared to before we worked together
2:01– Why did you reach out to me about the Elite Online Weight Loss Coaching program?
3:03– What did you struggle with going at your diet alone?
4:09– Can you describe your diet and body transformation in the last 3 months?
5:25– What are you most proud of in your transformation?
6:39– What would say to someone on the fence of starting the Elite Virtual Weight Loss Coaching program?
7:40– What is your experience working with Adrienne?
8:41– Would you recommend Adrienne to other people who are looking to lose weight online?
10:24– Do you feel that you have a sustainable plan to continue and work on your lifestyle and diet?
11:50– Kabir's last comments about the Elite Online Weight Loss Coaching program
17lb Weight Loss from Jessy with the Elite Virtual Weight Loss Coaching program!
My experience working with her was fantastic! She completely understood my concerns and made it very possible for me to sustain a new way of eating which I didn't think was possible doing on my own. She helped me lose 10lbs in 2 months which was really difficult for me to do before!
The meal plan she gave me was super easy to follow and having her as my support system helped me better understand that eating better doesn't only require eating salad all the time. I really enjoyed talking to her; I never felt like I was being judged for having such poor eating habits and she was more than helpful figuring out ways for me to better prepare my meals based on the kind of lifestyle I have.
I appreciated that she shared her own experiences and overall, she treated me like a friend and gave me the council and confidence I needed to make such massive changes to my lifestyle on my own.
I was capable of losing weight without being hungry.
I lost 20lbs and I've learned how to change my lifestyle. I eat healthier, more balanced, enjoy my food and stay in shape.
Adrienne helped me create a routine in which making good choices was easy. These 3 months working together to get me healthier were really important.
I lost some pounds but most importantly, I am making good, healthier food choices on a daily basis. Thank you Adrienne!
Adrienne is a wonderful dietitian. At first I was afraid of eating carbs and often would starve myself to get nowhere. I met here and I learned meal planning and food that actually is easy, healthy and works with my busy lifestyle. Her recipes are great and super easy, even my teenager daughter loved them and started to prepare the food as well.
I really enjoy her no shame approach in the consultations and the fact that she actually listens and makes us stop to think about solutions to our problems.
To me a dietitian is more than someone to make me a menu, is someone who can listen and be empathetic…yet keep me accountable for my progress. I was able to save money cooking at home, my skin improved, I gained confidence and I feel really good about myself. Sometimes things goes south but Adrienne put me central again. She is good and I would recommend her in a heartbeat.
Are you ready to step into your new life?
---
3 Month Elite Online Weight Loss Coaching Program
Initial consultation to discuss goals, review lab work, lifestyle and diet (virtual)

Personalized meal planning to get to your goals

Daily food diary accountability

Daily email accountability

Coaching sessions (virtual)

Weekly check-ins to make sure you are staying on track to losing weight

Mindset and stress management workbook

EWL custom recipe books

Corresponding EWL course

Additional resources to meet your needs
If you are ready to take action and invest in yourself now…
Book a free 30 minute call with Adrienne by clicking on the button below.
---
Elite Virtual Weight Loss Coaching Program Results: