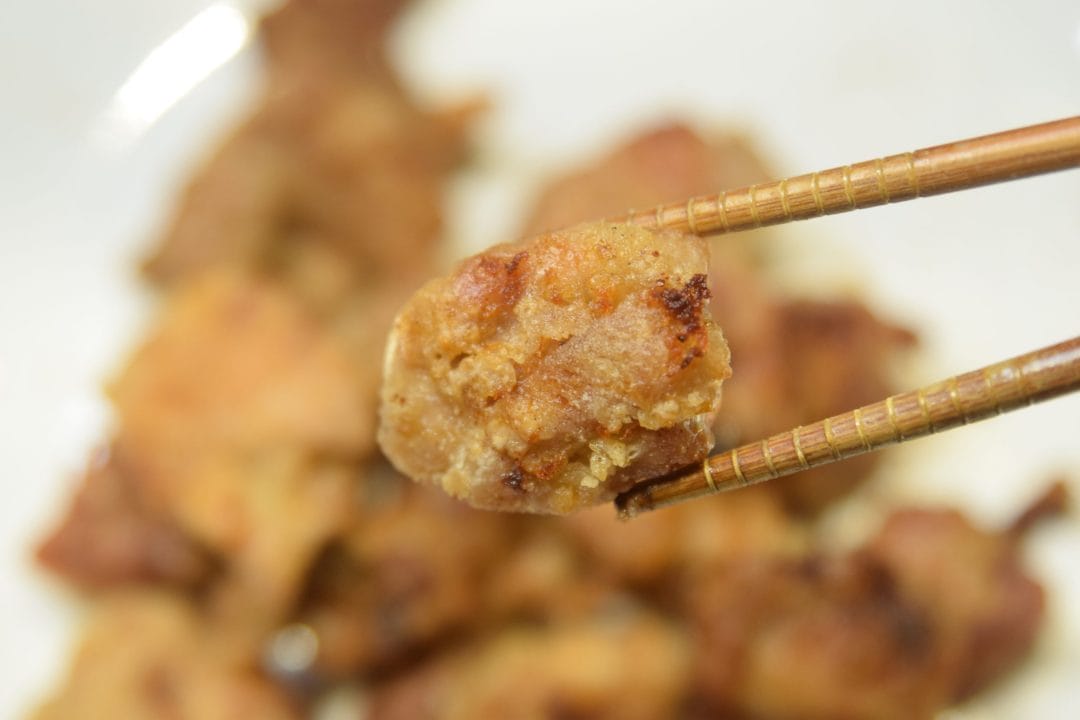 I'm sharing a simple, healthier, air fryer Taiwanese chicken nugget recipe that is 50% less calories than KFC's popcorn chicken!
Have you tried Taiwanese chicken nuggets before? It's a delicious and tastes likes an upleveled popcorn chicken. It's a staple at many Taiwanese restaurants.
If you're like many of my clients, you love eating fried chicken. So I wanted to create a healthier recipe that satisfies your crunchy fried chicken cravings. Because to lose weight, you don't need to be eating plain foods like salads and plain chicken breasts all day- that's boring and doesn't make losing weight and keeping it off sustainable or fun!
If you haven't had Taiwanese fried chicken before, it's essentially pieces of chicken thigh (with the skin) that are marinated, battered, deep fried, and tossed in some dry Chinese spices. The secret is the marinade and spices that make the Taiwanese chicken nuggets taste amazing. Since they are typically deep fried and uses chicken with the skin, the calories can add up quickly.
So, that's why I created a simple, healthier, lower calorie, air fryer version to share with you.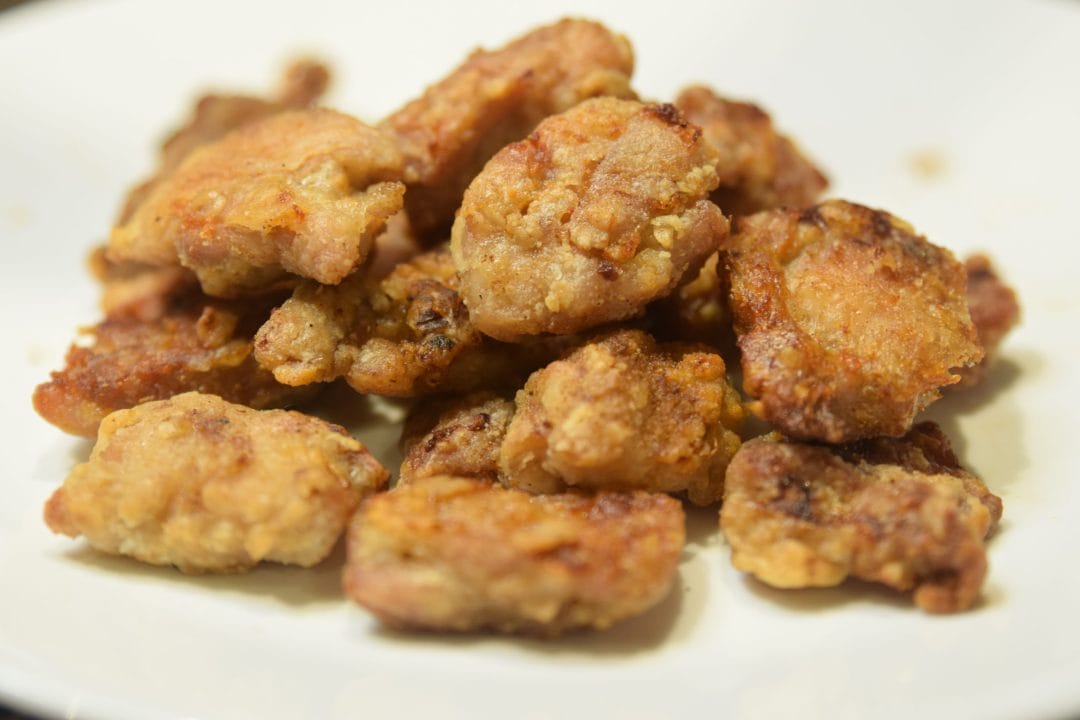 This delicious air fryer Taiwanese chicken nugget recipe is simple to make.
My husband and I tested this recipe quite a few times to make sure the flavors and spices and crispiness were perfect! I still have nugget fatigue from the trials.
Here are some pro-tips from our trial:
The chicken is firs marinaded with a mix of sugar, salt, Chinese cooking wine, white pepper, soy sauce, garlic, ginger and five spice powder.
If you don't have Chinese cooking wine, you can use other alcohol like sake, bourbon, or sherry as a substitute. You can easily pick this up in the ethnic aisle at most grocery stores.
The marinated chicken is then battered in tapioca flour. We tried using cornstarch but prefer tapioca flour. Cornstarch is heavier than tapioca flour and didn't give ia light, crispy coating that we preferred. However, if you only have corn starch on hand, that's acceptable too. It's also important to not over batter the chicken, or it won't be very crispy. Instead, tap the chicken on the plate after it's battered, to remove the excess.
I used spray oil to coat the chicken before it's air fried. Its' important to coat the batter well with the spray oil, or you will end up with dry, air fried batter that is not crispy. You don't have to overspray, but make sure the batter has oil on it. 1 sec of spray is only 7 calories, so it's quite low!
A mixture of dry spices (5 spice, white pepper, and salt) is dusted onto the air fried Taiwanese chicken nuggets. This is an essential step to make the nuggets taste like the authentic Taiwanese deep fried version!
5 spice powder is a mixture of star anise, fennel seeds, Sichuan peppercorn, cloves, and cinnamon. The flavors of the spices give a sweet, bitter, sour, salty, and umami profile. It's used commonly in savory, meat dishes. It's easily found in the spice aisle at most Asian grocery stores. Don't skip this essential ingredient!
I used 8 skinless, boneless chicken thighs for this recipe, which was about 1.8lbs. I cut up each thigh into 6-8 pieces.
Each thigh is about 220 calories and the marinade and batter divided by 8 is about 115 calories (assuming 4 second spray of oil). However, these are quite large chicken thighs, so you might want to have ¾ of a thigh and the portion sizes of the batter would then be for 10- this makes the calories about 265.
This is about 27g of protein from the chicken. If we compare this equivalent amount of chicken by using grams of protein to popcorn chicken at KFC, it equals 515 calories. So it's almost half the amount in this recipe vs KFC's popcorn chicken for the equivalent amount of chicken!
Taiwanese chicken nuggets is one of my husbands' favorite foods, so he was super excited with the recipe testing and even filmed himself making this recipe- which was a first and a big surprise to me. So the hands you see in this video are not me! And he likes to be one with the food while, I like using utensils for everything because I like to keep my hands clean.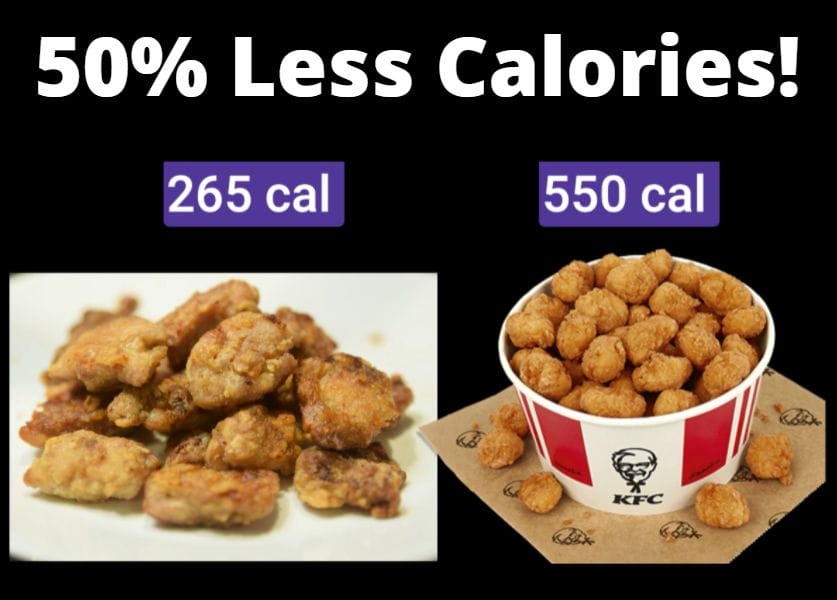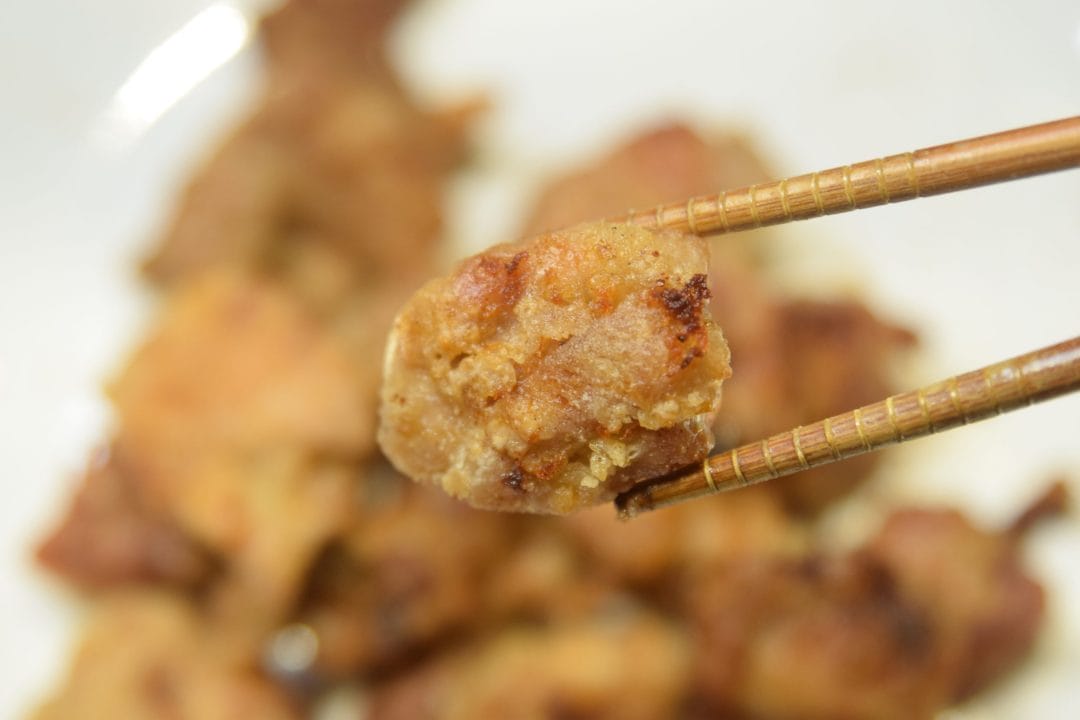 Air Fryer Taiwanese Chicken Nuggets
Ingredients:
1.8lbs (you can use 2lbs) of boneless, skinless chicken thighs
Marinade:
thumb size amount of ginger, grated
4 tsp minced garlic
2 tsp sugar
1 tsp salt
1/2 tsp ground white pepper
1/2 tsp 5 spice powder
2 tbsp Chinese cooking wine, sake, bourbon, or sherry
1 tbsp soy sauce
1 tbsp vegetable oil
Batter:
3 tbsp egg white (or 1 whole egg)
3/4 cup tapioca flour (or corn starch)
Spray oil
Seasoning for dusting:
1/2 tsp 5 spice powder
1/2 tsp salt
1/2 tsp ground white pepper
Watch to the end of the video for the taste test!